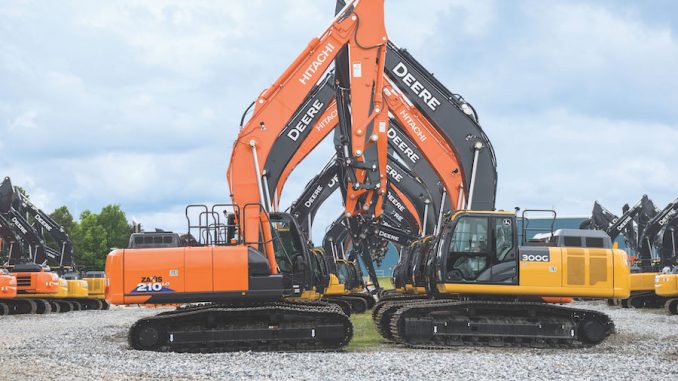 When visitors step into booth N12525 at CONEXPO/CON-AGG, they'll notice orange Hitachi excavators side-by-side with yellow John Deere machinery. The co-branded booth is a visual representation of a one-of-a kind, three-decade long partnership that is a testament to the longstanding mutual respect and dedication of both companies.
It's the 32nd year of a 50/50 joint venture that began in 1988 when Deere & Company and Hitachi Construction Machinery Co. Ltd. created an unbeatable partnership. With joint manufacturing facilities for construction excavators and forestry equipment plus integrated marketing and parts distribution, the two companies utilize the "best of both parent companies" to provide more value to customers. This includes the CONEXPO-CON/AGG booth, which will showcase the strength of this unique partnership.
"The Deere-Hitachi partnership represents the longstanding mutual respect and dedication of our teams," said Jon Chase, president and CEO of Deere-Hitachi. "We've combined the strength of Hitachi's world-leading hydraulic excavator technology with the resources of the 183-year-old John Deere brand to provide our customers with the best equipment to meet their jobs' needs."
In the booth, each brand is showcasing a range of excavators that meet customers' unique operational needs while improving productivity.
Hitachi is featuring the ZX345USLC-6 and ZX245USLC-6, both reduced-tail-swing excavators. The ZX60USB-5 compact excavator, the ZX350LC-6 construction-class excavator and the largest excavator in the booth – the ZX470LC-6 – complete the lineup of displayed Hitachi machines.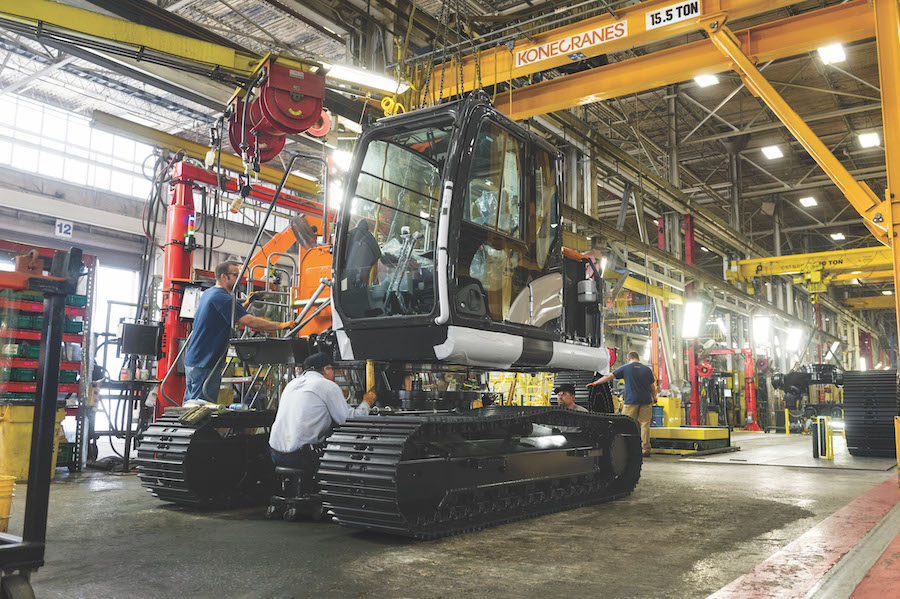 Along with a variety of construction equipment, John Deere is displaying six excavators – the 17G and 35G compact excavators, the 135G reduced-tail-swing excavator, the 200G and 210G utility excavators and the 300G construction-class excavator.
Hitachi and John Deere employees will be on hand during the show, responding to customers' questions and discussing their needs.
To date, Deere-Hitachi has manufactured a multitude of hydraulic excavators, ranging from 13- to 47-metric ton models, out of its more than 1-million-square-foot facility in Kernersville, North Carolina. The facility offers the latest in technological innovation and a skilled workforce of more than 800 employees.
The state-of-the-art factory uses high quality materials, advanced welding robotics, CNC machining centers, plasma plate-cutting machines and cranes capable of transporting as much as 25 tons. A lean manufacturing system combined with a thorough quality assurance process enables the facility to produce made-to-order machines with a quick time to market.
Deere-Hitachi also operates Deere-Hitachi Specialty Products (DHSP) in Langley, British Columbia, Canada. Established in 1998, the 115,000-square-foot facility produces Hitachi and John Deere forestry swing machines, ranging from 26- to 46-metric-ton models.
To better serve construction equipment customers in key markets, Deere-Hitachi established another joint venture in 2011: Deere-Hitachi Máquinas de Construção do Brasil S.A. (DHB) in Indaiatuba, São Paulo, Brazil. The 247,570-square-foot facility produces Hitachi and John Deere excavators, ranging from 16- to 35-metric-ton models.
For more information, visit www.HitachiConstruction.com/conexpo2020-media.