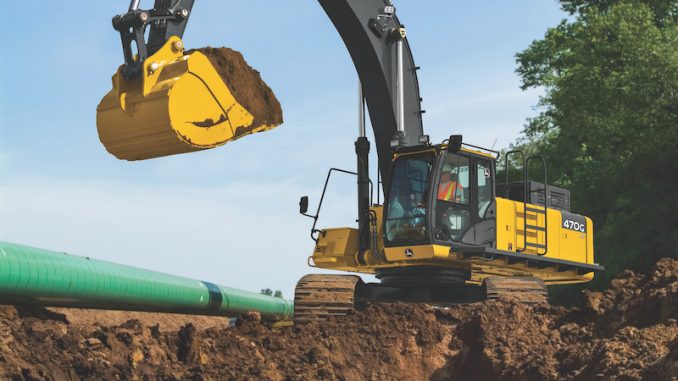 Power and precision converge with the new grade guidance technology-equipped John Deere 470G LC Excavators. First introduced for the 210G LC and 350G LC Excavators, John Deere developed this solution in cooperation with Topcon Positioning Group. The integrated grade guidance system provides the operator with the bucket's location in relation to a 2D reference or 3D design surface. This information arms operators with the detail they need for precision excavation projects, such as digging trenches for pipes, shaping ditches or slopes or digging structure foundations.
"Accuracy and productivity are critical to our customers, and the new integrated system provides them with just that," said Jonny Spendlove, excavator product marketing manager, John Deere Construction & Forestry. "With this integrated solution, the system's sensors are protected from damage and the display is conveniently placed in the cab. Additionally, this technology is fully supported by the customer's John Deere dealer, eliminating downtime and expediting earthmoving operations."
Equipped with a display in the operator station, the grade guidance system provides operators with the elevation and position of the bucket cutting edge with respect to a target plane (2D) or design surface (3D). Support through the JDLink™ telematics system provides information on system utilization and allows rapid diagnosis of problems.
To learn more about the John Deere 470G LC Excavators and the new grade guidance integration, visit www.JohnDeere.com or contact your local dealer.