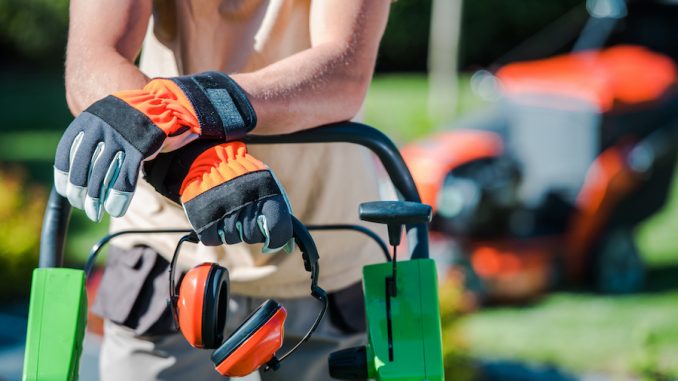 Landscaping offers many opportunities to build a million dollar business. You can start with a few tools and a work truck and grow from there. Or you can begin with a more ambitious plan that may include brick and mortar stores. In this article, we'll discuss the different types of landscaping businesses and what you need to do to build it into a million dollar enterprise.
Landscaping Products and Services
There are many ways to build a million dollar landscaping business. Of course there's residential and commercial lawn maintenance. But there's also:
Landscape design services
Hardscape (patios, gazebos, etc.)
Engineered soils
Sprinkler systems
Water features, such as koi ponds and fountains
Residential products (online and brick and mortar)
Although it's nice to be passionate about the landscaping business you select, it isn't necessary. You have to be passionate about learning – and passionate about business. Think of the many people who decided to open up a restaurant because they love to cook. But cooking is only one small part of running a successful restaurant. That's why, as estimated by the National Restaurant Association, 30% of restaurants fail in the first year.
Legal Structure
There is no "right" way to structure your landscaping business. It is a combination of complexity, business location, liability risk, and tax avoidance. You absolutely, positively want to consult with both a lawyer and accountant to understand the pros and cons of each type of legal structure. Generally, these are your options:
Individual
Structuring your business as an individual is the easiest to setup but may leave you open to the highest liability and taxes. Most people – especially entrepreneurs – like to be in control of every aspect of their business. You can declare yourself king of your landscaping business and structure it as a sole proprietorship. We think that is just dandy if you surround yourself with – and consider the advice of – smart professionals. If you surround yourself with "yes" people, your landscaping business will likely faulter. It's good to be king – until it isn't.
Partnership
Many entrepreneurs choose to go into business with a friend or family member. Just keep in mind that you don't really know a person – your spouse included – until you have to work with them every day. You'll want to have deep conversations with a prospective partner about roles and responsibilities, financial goals, etc. Should you decide to proceed with a partnership, it is critical to have a legal partnership agreement drawn up and executed. Yes, even with your spouse or best buddy.
Franchise
For some, a franchise is a good choice for starting a landscaping business. It provides a business framework and support for important functions like marketing. Obviously, not all franchises are created equal. You want to dive deep into the company's financials, history, and confirm the success of current franchisees. Here are two examples of landscaping franchises:
U.S. Lawns
US Lawns claims to be a "trusted brand in commercial landscaping for 35 years."
Clean Air Lawn Care
Clean Air Lawn Care has an interesting concept. They use organic fertilizers and solar-powered equipment to provide lawn care that is safe for pets and people.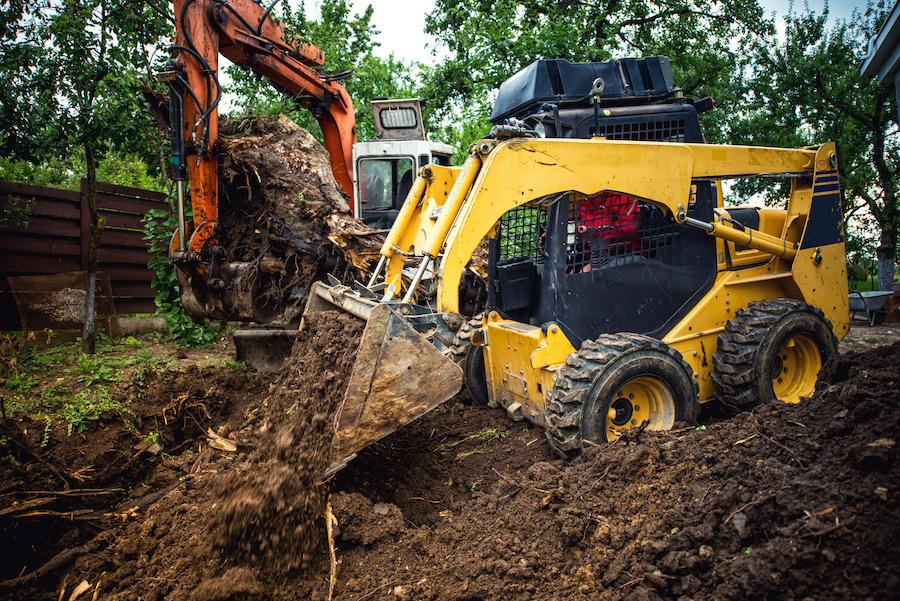 Your Million Dollar Landscaping Company's Business Plan
In order to build a multi-million dollar construction business you must have a thorough and realistic business plan. The Small Business Administration (SBA) is a great source of information. Your business plan is your map to success. It includes key information such as:
Products and Services
You must describe your products and services in detail and how they solve your prospective customers' problem. You can't sell what you can't describe, right? You can't close the deal if you can't explain why a customer should buy these products and services from you and not your competition.
Competition
You need to research your competition. What are they offering? What are they charging? Who are their customers? What will inspire their customers to switch over to you? What customers are they ignoring? Consider calling a couple of competitors and asking about their experience starting and running their business. People love to talk about themselves. Ask open-ended questions like, "Why did you start this landscaping company?" and "What would you do differently if you could?" Take good notes (record it if they will allow it). If you plan to open a brick and mortar store, visit local businesses. Take pictures and take notes. Buy something. How is their customer service?
Financial Projections
Your business plan must provide numbers going out at least five years. The numbers must be based on concrete data. If you live in a town of 5,000 people, you probably can't justify gaining 3,000 customers in the first year. If your local area has a low average income, it is not likely that they will buy expensive landscaping design services. You can find population, income, and other specific data from the U.S. Census. Another source of information is the National Association of Landscape Professionals. Your goal is to convince prospective investors (this includes yourself) that there is a market for your products and services, and that you have a plan to gain and grow a customer base for your million dollar landscaping business.
Equipment and Materials
The type of landscaping company you decide to start, obviously, will determine the equipment and materials you'll need to do business. Your business plan should address the cost of major items and how you will finance them.
Marketing
There are not too many business owners who love marketing. Fortunately, you can find help for virtually every aspect of marketing. These are key marketing decisions you'll need to make and functions you (or someone you hire) will need to perform:
Business Name
Your business name, obviously, is an integral part of your marketing. Short and to the point is typically best. Say the name out loud in various contexts. Write it out as well. Yes, people learned to say, if not spell, Arnold Schwarzenegger. Unless you have a six-pack and a cool accent, if you're name is hard to say and spell, either go with your initials or something that does not include your name. A good marketing firm can help you select a business name.
Choosing Your Customers
That's right. You get to choose your customers. It's called your target market. Yes, we know, everyone's money is green. But trying to target every single person is a) expensive and b) ineffective. Besides, forcing yourself to think about the type of folks who will be interested in your products and services helps you think more clearly about how to market those products and services.
How a Target Market May Affect Your Business
Your target market can change aspects of your products and services. For example, price and quality. What you will market to residential homeowners in mid-priced neighborhoods is likely different from the products and services you will offer to large, commercial clients – like those who own apartment complexes or government buildings. Select target markets that you understand and can serve well.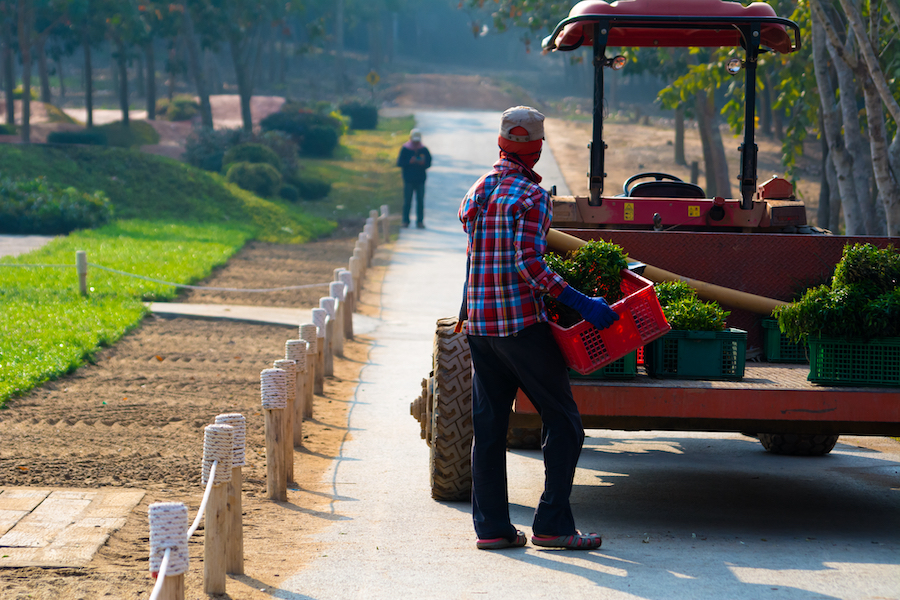 Get Online
We know that even in this hyper-digital world, there are still a few holdouts. Which we totally get. But you can (and likely should) keep your personal world offline. You will need to put your business out there in the digital world. Why? Because even granny Googles to find a plumber, a great sushi place, and a hairdresser. These are the basic things you must do to have an online presence for your landscaping business:
Website for Your Landscaping Business
You must have a website. Even a single page with basic information about the business, some pictures, and a couple of testimonials is better than nothing.
Social Media for Your Landscaping Business
You need to be real about social media. There are so many options it can be dizzying. It can also be nearly impossible to maintain more than 1-2 social media accounts. It is better to do one social media platform well than to do half a dozen poorly. Where most landscaping businesses fall down with social media is not keeping their content current.
Local Listings for Your Landscaping Business
It is critical to have a local presence. Even if your business is completely online, prospective customers will search locally often enough to make it worth your while. Besides, it's free. Once you have a website, get your Google for Business page setup. Google's worldwide market share of the search engine business is nearly 90%. You should also setup business pages with search engines such as Yahoo and Bing.
Online Payments
You want to make payment as easy as possible. Offer online options such as Zelle, PayPal, and Venmo. You have a greater chance of getting your client to click on a link than write a check.
The Proverbial Picture
Say it with us: a picture is worth a thousand words. If you sell products, hire a professional photographer to take picture of those products. If you design landscapes, show a picture of the plan side-by-side with the final result. Before you clean up someone's yard, take a picture before you start. Then take the "after" pictures. The more dramatic the change, the better. Remember to actually post the pictures.
Video
If a picture is worth a thousand words, a video is worth ten thousand words. Videos showing prospective clients how something works show that you know what you are doing. Some landscaping companies offer do-it-yourself (DIY) videos. It is more likely to motivate a prospective customer to hire you for the job when they see how involved it is to create their own garden or build their own patio.
Testimonials for Your Landscaping Business
Don't wait and pray for word-of-mouth business. Ask for it! After each job, request a written testimonial from the client. Request permission to at least use their initials. If there are spelling and grammatical errors, it's okay to clean it up. Just don't change the content of their remarks.
Lead Generation Services for Construction Companies
There are many different ways to generate leads for your landscaping business, including:
Sphere of Influence (SOI). This is everyone you personally know or do business with.
Online Services. Thumbtack and HomeAdvisor are popular ones. There is usually a free option you can start with.
Digital Marketing. There are several ways to market your landscaping business online. A marketing firm can build and maintain your online presence.
Referrals. Ask every happy customer to refer you to friends, family, and colleagues.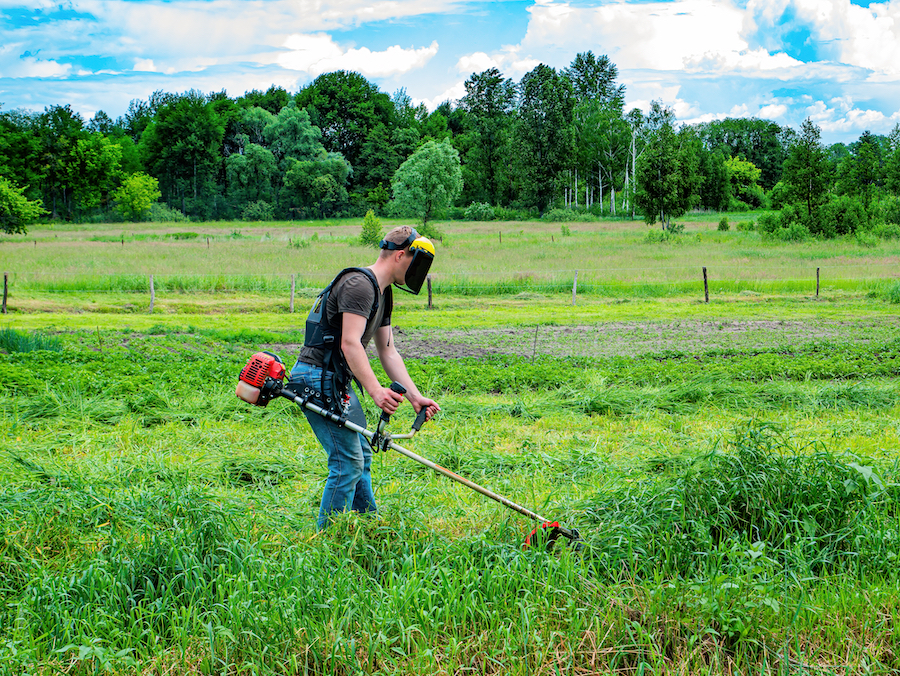 Equipment and Materials
You should plan for the types of equipment and materials you'll need depending on the type of landscaping work you will do. Here's what you'll need to perform the following typical landscaping functions:
Trenches
You'll need to do trenching for concrete forms and irrigation systems.
Equipment
You can dig trenches with a good shovel and a strong back. That will get old pretty quick. Consider buying a dedicated trencher if you'll do a lot of that type of work. Otherwise, trencher attachments are available for both skid loaders and tractors. Solid dedicated trencher brands include Ditch Witch, Toro, and Vermeer.
Materials
Materials required for trench-related work include concrete and lumber.
Fill and Tamp
There will be situations where you have to add material for drainage or to amend soil. Soil compaction equipment to tamp down fill is categorized as either for light soil or heavy soil.
Equipment
Light soil compaction equipment includes rammers, vibratory tampers, and vibratory plate compactors. This equipment is appropriate for smaller areas. Heavy soil compaction equipment includes smooth wheels rollers, sheep foot rollers, elephant foot rollers, pneumatic tired rollers, wobble wheel roller, impact roller, grid rolls, and pad foot/ presser rollers. Major manufacturers include Case, Trimble, and Dynamic.
Materials
Crushed stone and stone dust are typically used for fill under concrete.
Engineered and Structured Soils
You should definitely consider getting into engineered and structured soils. We've written a few articles that feature the Terra XTREME – a machine that makes it easy to pulverize, aerate, and blend a variety of materials. Your goal is to recycle material that is normally trucked off construction sites. Learn more about engineered and structured soils in our article.
Tree Service
Trimming trees, removing stumps, and clearing lots are some of the jobs you can take on with a landscaping company focused on tree service. Typical equipment includes chain saws, woodchippers, and stump grinders.
Residential Lawn Care
You can start your landscaping business with a push mower, an edger, a weed wacker, and a blower. PowerSmart USA has a line of self-propelled mowers for around $300 that get pretty good reviews on Amazon. Nyrobi and Toro are pricier but solid brands that sell all the basic equipment you need to get going in residential lawn care. When you increase your client base, consider a rider mower. Investing in a rider mower will allow you to squeeze in more clients each day. How? It takes about 75% less time to mow a lawn with a rider mower compared to a push mower. John Deere has a line of tractor mowers to fit every budget. Because nothing runs like – say it with us – a Deere.
Your Dream Team
Do not try to be your own lawyer, accountant, and insurance agent. These professionals offer critical guidance and services that help you build a successful million dollar landscaping company. At least get advice from a lawyer before you buy documents from LegalZoom.
Legal
At first, you'll need a lawyer to help you legally setup your company. They should be experienced in this type of work – within the state or states in which you plan to do business. Any decisions that involve (or could involve) taxes should also be discussed with your accountant.
Insurance
Insurance should never be an afterthought. It is a key component of risk mitigation. A good insurance agent can discuss which policies are right for your business. Take the time to understand specifically what is covered (and not covered) in each insurance policy. Keep in mind that it is not whether an event is likely but what it will do for your business if it occurs. A $2,000 premium each year may sound like a lot, but what would it cost to rebuild your business?
Accounting
An accountant can advise you on which legal structure is best, from a tax perspective, for your business. They can help you take advantage of favorable IRS rules that lower your taxable income. Our experience is that what a good accountant can save you in taxes minimally covers their fee.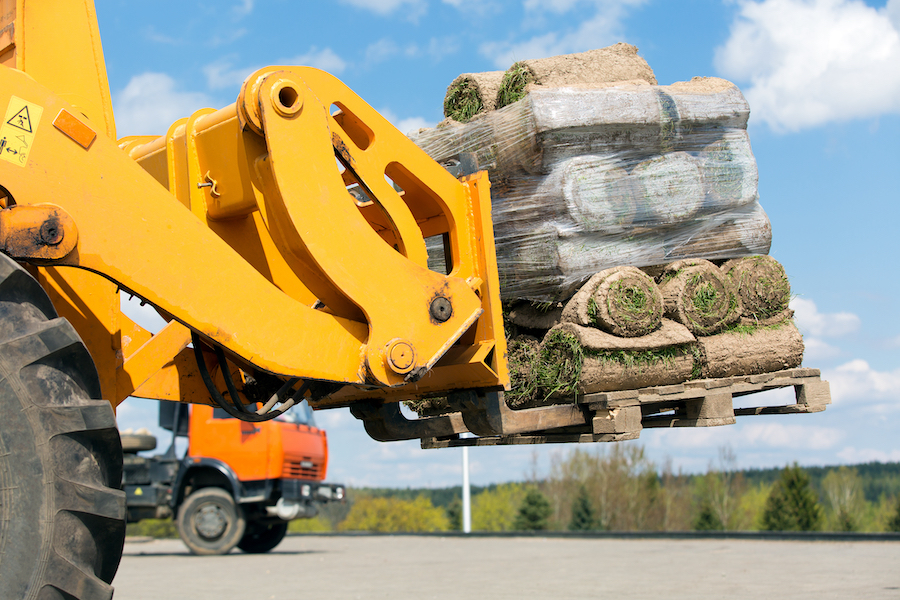 The Secret Sauce
You've got a great business plan, marketing plan, management software, and hired a great team of pros. That's a great start. There's a few more tools you'll need to build a million dollar landscaping business:
Hard Work
When you own your own company, it is rare that you will walk out the door before your employees do. You will not have a lot of time for vacations. You don't get a set amount of sick days each year. You will work hard – perhaps harder than you ever have in your life. If you're not prepared to make sacrifices, you should consider sticking with your day job. Which, by the way, there is no shame in doing.
Self-Care
You know you're going to need to work hard. In order to keep your stamina up and your mind clear, take care of yourself. There are many ways to improve and maintain your health. Don't blow off your annual physical. Consider meditation to keep your stress in check. Think about what food and drink you're putting in your body. Your goal is to mitigate the risk of burnout and reduce the risk of illness. You need energy to build your million dollar landscaping business.
Luck
There are those who say that luck is when preparation meets opportunity. A pithy saying that is true most of the time. But there is just plain old luck – good and bad. You could not have stopped the housing crash and subsequent recession or the COVID pandemic. Stuff happens. It's called life. Hedge your bets by creating a risk mitigation plan to prepare for the really bad stuff.
The Motivation
Why you want to start this landscaping business is as important as how you will do it. If your being pushed into it by say, your parents, it may not provide the motivation you need. (Although it might.) Think carefully about your reasons for starting what is going to be a difficult journey. When the chips are down, your why will give you the inspiration to keep on keeping on.
The Smart Money
Here's a hard truth: most people are not taught to be smart with their money. They spend their money as fast as they earn it – sometimes faster. Then an unexpected expense arises, and they find themselves scrambling for cash or credit. Track everything you spend and review it each week. There are apps like Mint that make this easy. Your goal is to create a "rainy day" fund to get you through an emergency. Which means spending less than you make. Keeping track helps you identify where you can reduce expenses, so you never have to rob Peter to pay Paul.
Danger Ahead
There are things that will hurt your business. In fact, they can completely sink your landscaping company before you hit that million dollar mark. These are a few unfortunately popular dangers:
Believing You'll Change
Do not plan to change. You are who you are. Your business plan should take advantage of your strengths and mitigate your weaknesses. For example, perhaps you find marketing intimidating. (Most business owners do.) Hire a marketing firm. Or you know that you tend to procrastinate. Hire freelancers to take care of the work you know you are going to put off doing.
Pride
You're doing great. You've followed all our awesome advice and have racked up that first million dollars in sales. You're doing so well that you start to feel invincible. Listen up: you are not invincible. There's having pride in your accomplishments and then there's getting cocky. Pride can turn into hubris – believing you can do no wrong. Never forget that you are human. Humans make mistakes. Especially when they actually believe that they can do no wrong. You can and you will. Let success lead to more success by constantly evaluating your progress. What are you doing well? What can you improve?
Cheaping Out
There's a difference between buying wisely and cheaping out. For example, why not use higher quality materials? If it's a choice between schedule 40 and schedule 80 pipe, use the one that is right for the irrigation system based on needed performance rather than price. This is especially important with professional services. Don't hire the lowest priced lawyer or buy the cheapest insurance policy – price alone is rarely the best criteria for buying anything. Especially when your landscaping business is on the line.
Poorly Planned Expansion
There will likely come a point in your landscaping business journey where you will need to expand to hit that million dollar mark. Any expansion of your business needs to be carefully planned.
Conclusion
Your best chance for building a million dollar landscaping business relies on careful planning. We know that if you've taken the time to create a high quality business plan, a marketing plan, and a risk mitigation plan, you likely have what it takes to establish a successful landscaping company. Remember to hire your dream team of an accountant, a lawyer, and an insurance agent. If everything goes well and you reach that first million, keep your pride in check. Always be looking to improve. Work hard, take care of yourself, and leverage freelancers and consultants to help you start and grow your landscaping business. Hey, you could start planning today!