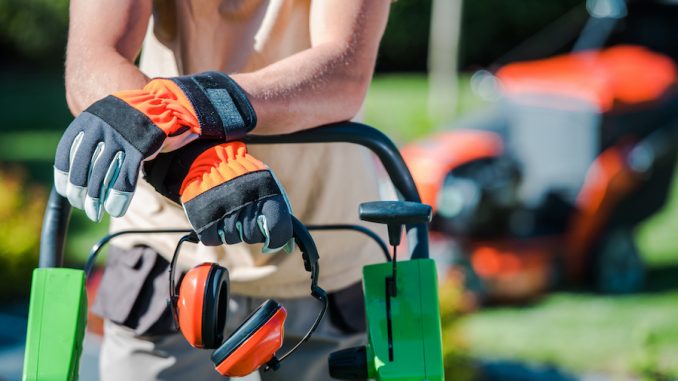 When it comes to business and profits, do you think that landscaping isn't a major contender in the construction industry—yes—the construction industry? Well, think again.
The landscaping market was valued at $105 billion in 2021.
If that's not enough to pique your interest, here are some other statistics:
According to the National Association of Landscape Professionals, 40% of Americans hired a lawn or landscaping professional in 2017.
According to IBIS World, landscaping company wages totaled $35 billion in 2021.
According to Research and Markets, the top 100 landscaping companies earned a combined revenue of $10 billion in 2018.
But that's enough about statistics. Let's take a look at why landscaping businesses are generating so much profit and how you can start your own.
How Much Does a Landscape Contractor Make Per Year?
Before we get into what services you can offer and what equipment you'll need, let's get this out of the way… How much can you make as a landscaping contractor?
According to ZipRecruiter.com, the average landscape business owner salary is $54,942, which isn't too shabby if you think about it… This is the average salary. If you're taking the time to read this article, chances are you aren't average—chances are you're a go-getter and can outperform the average competition out there.
Work hard enough, and you can do very, very well. We personally know landscape contractors generating $250,000 per year and have spoken to some who are earning seven figures.
But—that being said—we wouldn't recommend focusing on the numbers. Focus on building the best landscaping business that you can. Play the game—don't stare at the scoreboard.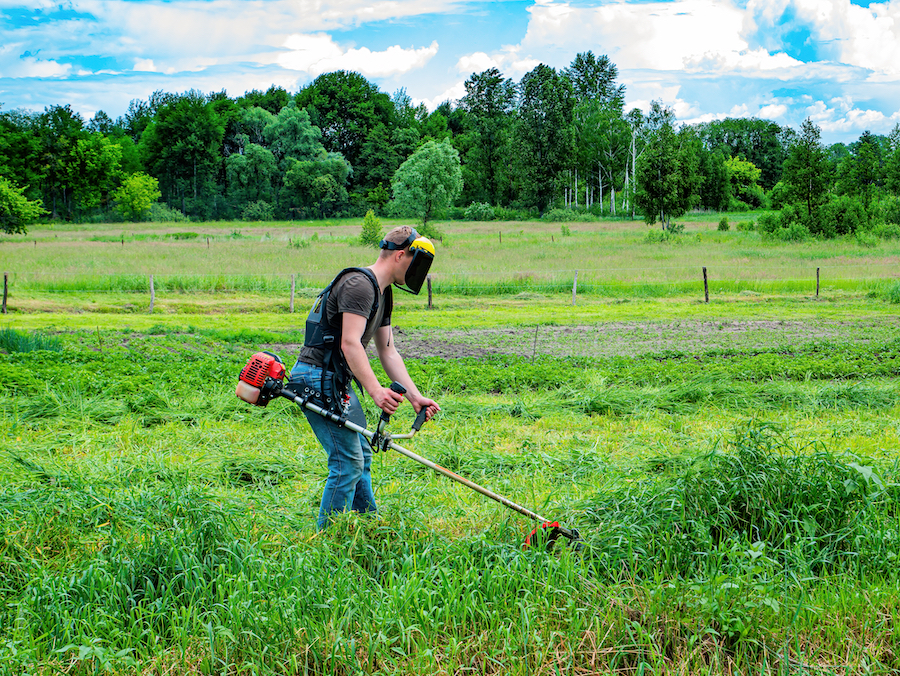 What Services Will You Offer?
Let's address a question that we get a lot: Is landscaping considered construction?
Yes.
Why? Put as simply as possible: Because you're making new construction or improvements to land—which could include landscape design, hardscape installation, and irrigation installation—just to name a few examples.
We know some of you may imagine an elderly woman dressed in a stylish apron pulling weeds in her backyard, but the fact is that there are some big, profitable landscaping jobs out there—and some of these projects utilize impressive equipment and—at times—complex construction methods.
When it comes to landscape installation, here are some services that you can offer:
Landscape design
Hardscape and walkway installation
Irrigation installation
Retaining wall construction
Shed construction
Patio and deck construction
And—yes—landscape maintenance offers plenty of opportunity as well. Here are some of the many maintenance services that you can provide:
Lawn mowing
Tree trimming
Planting trees, shrubs, and bushes
Fertilizing
Weeding
Mulching
Snow and ice clearing
The list of possibilities goes on-and-on. Don't be afraid to get clever and resourceful. Some contractors make a small fortune during one month, alone—decorating residential yards for the holiday.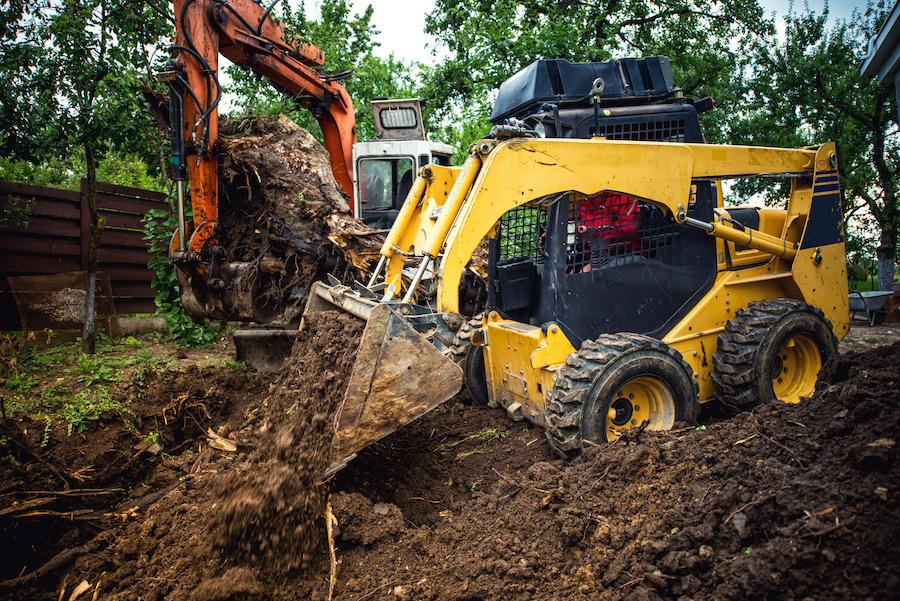 How Much Does it Cost to Start a Landscaping Business?
One of the best things about owning a landscaping business is the startup costs… which typically aren't too high compared to some other construction businesses out there.
There are exceptions—of course—like if you're purchasing a large dozer for big commercial projects. But for those of you out there that are a one-man operation—or even a small team—you can start with just a few thousand dollars to cover the costs of basic equipment like a push mower and leaf blower.
Also—like we suggest in most of our articles—you can always purchase used equipment. Purchasing used equipment is especially easy in the landscaping business, as there's always someone out there upgrading their fleet, retiring, or selling their business.
If you're in the market for used equipment, check out SteelGiantMarket.com—or even Craigslist for the basics.
What Equipment Will You Need?
Of course, the types of services that you'll be offering will determine the equipment needed, but we've listed some of the most common types of equipment and tools that you'll need below. Note: The prices of each may vary. To keep this quick and short, we've included the average, new—not used—prices for each.
Storage facility: When you thought about buying equipment for your new landscaping business, storage probably wasn't the first thing that came to mind was it? Well, where are you going to store all of your mowers, blowers, and other equipment—not to mention excess materials? For those of you who can store all of this on your own property—that's great—but for those of you who can't, you may want to consider renting storage space. Depending on where you live, renting a storage space usually ranges between $100-$300 per month.
Safety gear: Weren't expecting this on the list either? Well, we hope you were—because if you're not keeping your team safe, you don't stand a chance lasting as a landscaping business owner. With so many landscaping employees working on the side of the road, safety gear is crucial. We recommend doing your research and purchasing all of the gear that you come across, but—for now—start with ear protection, safety glasses, and reflective vests.
A solid work truck ($25,000 – $40,000): You'll need a truck reliable enough to haul equipment or materials on a trailer. Consider features like a mounted toolbox and maybe even a flatbed option that allows you to dump topsoil and other materials.
Utility trailer ($1,800 – $3,000): There's all sorts of trailers out there so be sure you do the proper research to make sure you're getting the right trailer for the right job. For example, consider a ramp gate if you're planning on driving mowers aboard.
Push mower ($500 – $1,500): When it comes to push mowers, the options seem endless—take your pick. Just make sure you consider optional features and attachments like mulchers and side catchers.
Riding mower ($1,500 – $5,000): Need something a bit more powerful than a push mower? For those of you who are working on larger jobs—or just happen to have the budget—a riding mower might be the best option for you. Generally speaking, riding mowers are ideal for lawns 3/4 acres to 2 acres or more, and they offer all sorts of attachments.
Leaf blower ($200 – $400): It can never hurt to have a solid leaf blower in the back of the truck. Whether you're vacuuming, mulching, or just blowing away annoying debris, you'll never know when you're going to need it.
Trimmer ($200 – $300): Trimmers are ideal for reaching grass and weeds in places where mowers have trouble reaching. When it comes to trimmers, you'll need to consider the weight of the trimmer, as well as its ability to balance. This will—of course—vary depending on who is operating the trimmer.
Spreaders and sprayers ($50 – $150): If you're offering fertilization services—which most of you probably are—you'll probably need a broadcast granular spreader, as well as a small, pressurized herbicide sprayer.
Portable generator ($800 – $2000): A lot of landscape contractors are working far from power sources so generators are an excellent investment. When it comes to generators, it's important that you understand wattage needs, runtime, and portability in order to ensure safety. Be sure and do your due diligence on this one.
Like we said—these are just some of the fundamental pieces of equipment and tools that you will need for a landscaping business. There are plenty more.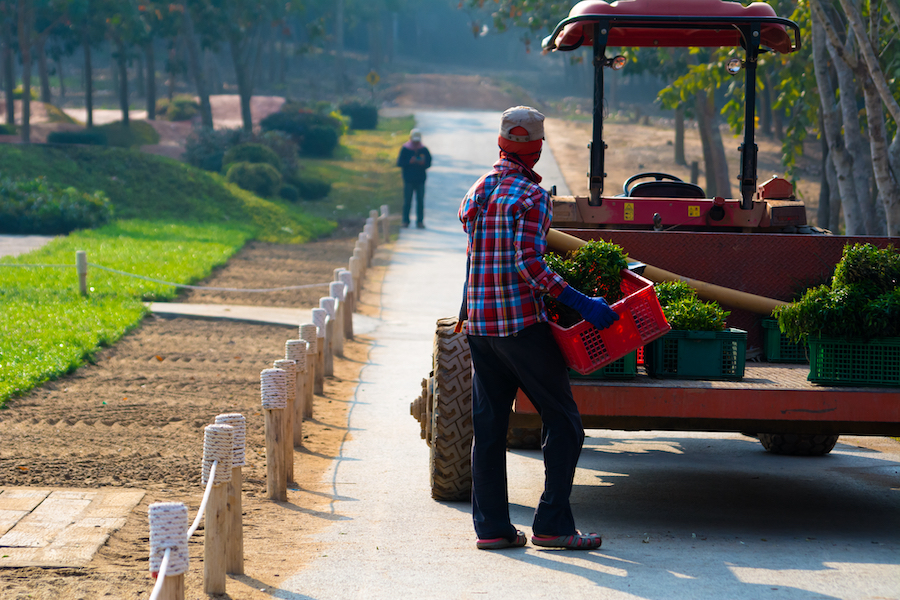 Creating a Business Plan
Why does a business plan matter? Well, consider factors such as whether you'll be serving residential or commercial clients. This will make a difference when it comes to how much you charge clients, purchasing equipment, the materials you'll need—not to mention the financing you'll need.
A business plan serves as a guide while building and expanding your new landscaping business, and is crucial if you plan on raising any sort of financing.
Generally, a business plan includes:
Executive summary: A summary designed to capture the reader's attention and briefly explain your landscaping business, the problem you are solving, as well as the target audience.
Business description: A description of your new landscaping business.
Services and products: A list of all services you plan to offer, as well as any potential products that you may plan to sell.
Market analysis: This section should include statistics about the landscaping industry, details about your target audience, as well as information about your competitors.
Organization and management: Who's running the show? In other words who's taking orders and who has the final say?
Sales and marketing: How exactly do you plan to market your new landscaping business and close new customers?
Financial projections: What is your current budget and how much money do you plan to earn each year?
If you want to learn more about how to create a business plan—and how to build a successful landscaping business, visit Heavy Ape.com. Heavy Ape is home of the 'Build Your Own $1,000,000+ Construction Business' online course. At the time of writing this article, their upgraded course is on sale so be sure you take advantage of the offer before it's too late.
How Much Should I Charge?
Considering all of the different regions, sizes of projects, types of terrain, and all of the factors that determine costs of landscaping projects, we don't feel comfortable listings national averages.
That being said, we believe the data listed for specific services on HomeGuide.com is pretty accurate. We encourage you to review their full list—as well as data from other sources—but here are some of the key pieces of data for residential landscaping services:
Landscaping installation (from scratch): $3,000 – $15,950
Lawn mowing: $25 – $50
Lawn seeding: $300 – $700
Sod installation: $1,100 for the sod or $3,000 installed
Mulching: $200 – $500
Sprinkler system installation: $1,800 – $5,200
Tree trimming: $250 – $500
Tree removal: $12 – $13 per foot or $200 – $600 per tree
Gravel installation: $180 – $1,800
Remember: Knowing and understanding what to charge your client for landscaping services is a bit of a skill—a skill that you will perfect the more you do it. So get out there and get your hands dirty.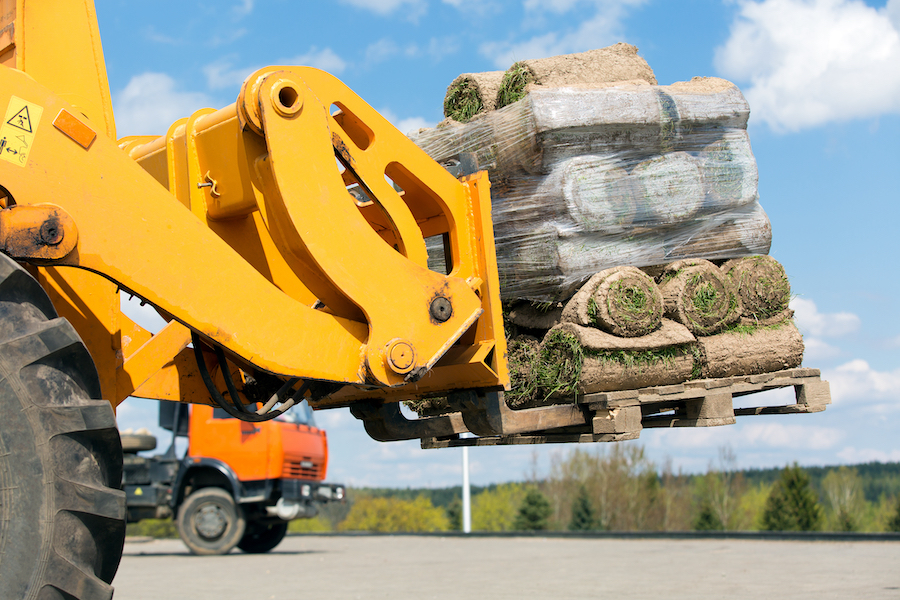 Do I need a License?
License requirements vary widely state-by-state. For example…
In Illinois, you do not need a state license unless you use pesticides. In this case, you'll need an Applicator license from the Illinois Department of Public Health.
In Louisiana, landscaping contractors must hold a state license. There are multiple licenses awarded by the Horticulture Commission of Louisiana, Department of Agriculture and Forestry, including the Landscape Horticulturist License and the Arborist License.
In Minnesota, the Minnesota Department of Transportation requires landscapers to hold a Landscape Specialist certification in order to install plants, and you must complete a course and pass an exam.
These are just a few examples. At the end of the day, it's always best to do your due diligence to ensure that you are abiding by the law and staying out of hot water.
You'll also need an EIN number, especially if you plan on hiring employees. To learn more about how to obtain an EIN number—as well as how to legally start a business—be sure and check out the Heavy Ape course that we mentioned earlier.
The Right Crew
On a final note, we want to mention how important a crew is. All of the money, equipment, and clients mean nothing if you don't have a reliable crew to help get the job done right.
We can assure you—a client won't be hiring you for another landscaping gig if it wasn't done properly the first time. It's imperative that you choose your team carefully and that they respect you.
We find that some of the best landscaping business owners work alongside of the crew, even if they have multiple jobs going on at once—in which case they will bounce around each job the best they can.
And don't forget the most important tip of all … work your butt off.