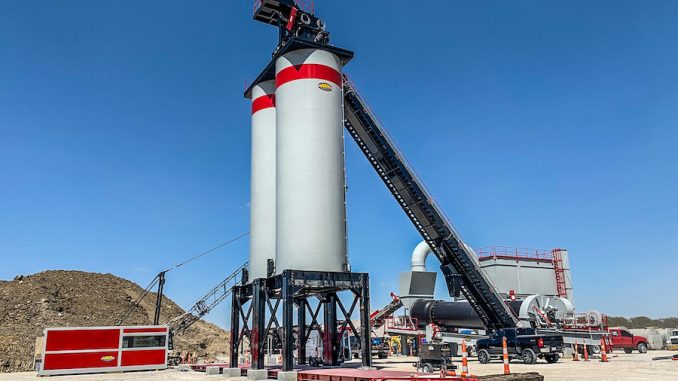 View the complete article here.
Asphalt is used in many public spaces. From roads and parking lots to playgrounds and basketball courts. This so-called "perpetual pavement" is smooth, skid-resistant, flexible, and with proper maintenance can last for decades. Perhaps its greatest value is that it is 100% recyclable. Asphalt is mixed from a variety of materials in a Hot-Mix Asphalt (HMA) plant. In this article we discuss the different types of HMA plants and provide an overview of how each type works.
A Complex Mix
Any type of HMA plant has a single mission: to blend materials together to create smooth and consistent asphalt paving. This is accomplished by blending an aggregate along with asphalt cement at an extremely high temperature. Different mixes – or recipes – may include mineral fillers or various types of additives. Reclaimed Asphalt Paving (RAP) is often added to mixes.
Major Types of HMA Plants
There are two major types of HMA plants: drum-mix and batch. The end result that each type of HMA plant produces is virtually the same. However, each operates and handles the flow of the asphalt materials in different ways. Both types of plants typically have these components:
Cold-feed System. The cold-feed system is used to distribute the material to the HMA plant via a feeder belt. Each material is held in a bin. The bin's gate opening and the feeder speed control the amount of material released onto the gathering conveyer belt. The materials move along the conveyer belt to the drying chamber.
RAP Bin. RAP is handled in a separate bin. It is typically used in most mixes, but the amounts vary. Generally, it is heated indirectly to reduce the emission of gaseous hydrocarbons.
Drying Chamber. Uses hot air to dry and then heat the aggregate.
Dust Collection System. Captures sand and dust produced during the drying operation. These are called "baghouse fines" and are sometimes put back into the mix.
Liquid Asphalt Storage Tanks. This is where the liquid asphalt (called "bitumen") is held until it is combined with the final mixture.
Storage Silos. These silos are insulated and, in some cases heated, to hold the final mix at a certain temperature.
Emission Control Equipment. These are systems to meet Environmental Protection Agency (EPA) requirements and reduce "invisible emissions" from HMA plants. This includes volatile organic compounds (VOCs) found in hot asphalt storage tanks.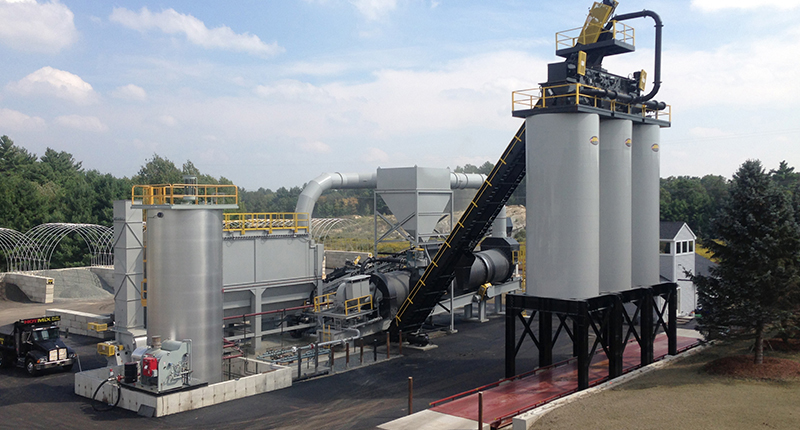 Drum-Mix HMA Plants
There are several types of drum-mix plants. However, parallel-flow and counter-flow drum-mix HMA plants are commonly used. The process type relates to how the aggregate flows with the hot air in the drying chamber. Drum-mix HMA type plants deliver high production rates because they provide a continuous flow of HMA. It is possible for some drum-mix plants to have production rates as high as 800 tons per hour (TPH). The drum mixes the aggregate and liquid asphalt in part by turning. A flight or lifting pattern inside the drum lifts the material and drops it down through the air stream as the drum rotates.
Parallel-Flow Drum-Mix Plant
In a parallel-flow drum-mix type HMA plant, the aggregate material flows in the same direction as the hot air during the drying process. An example of a parallel-flow drum-mix HMA plant is ADM's Roadbuilder Series. These are quick setup, one-operator plants that can process up to 25% RAP. HMA plants in this series produce 110-350 TPH.
Counter-Flow Drum-Mix Plant
In a counter-flow drum-mix type HMA plant, the aggregate material flows in the opposite direction against the hot air during the drying process. An example of a counter-flow drum-mix HMA plant is ADM's EX10248. The EX Series is a rugged, high-volume counter-flow drum-mix plant. It produces 120-425 TPH. It is available in portable, skid mounted, and relocatable versions.
Overview of the Drum-Mix Process
Aggregates are moved from the stockpiles into the cold feed bins.
An automatic system weighs the aggregate so that the proper amount flows into the drum mixer.
The weighing system then calculates the amount of liquid asphalt to transfer from the storage tank into the drum mixer.
The liquid asphalt and aggregates are blended in the drum mixer.
The dust collection system captures any excess dust.
The HMA moves to the storage silo by conveyer.
Batch HMA Plants
Batch type plants produce one batch of HMA at a time. Their production rates are lower than drum-mix plants since they do not run continuously. However, this allows them to be more flexible. They can change mixes quickly. How the aggregate and liquid asphalt are mixed works differently from a drum-mix type HMA plant. A "pugmill" uses paddles that are attached to arms that physically mix the aggregate and liquid asphalt inside the drum.
Overview of the Batch Process
Aggregate enters pugmill from the weigh box.
Asphalt cement enters the pugmill from the spray bar.
Aggregate and asphalt cement are mixed together.
Finished mix is discharged through pugmill gate.
Pugmill gate closes in preparation for the next batch.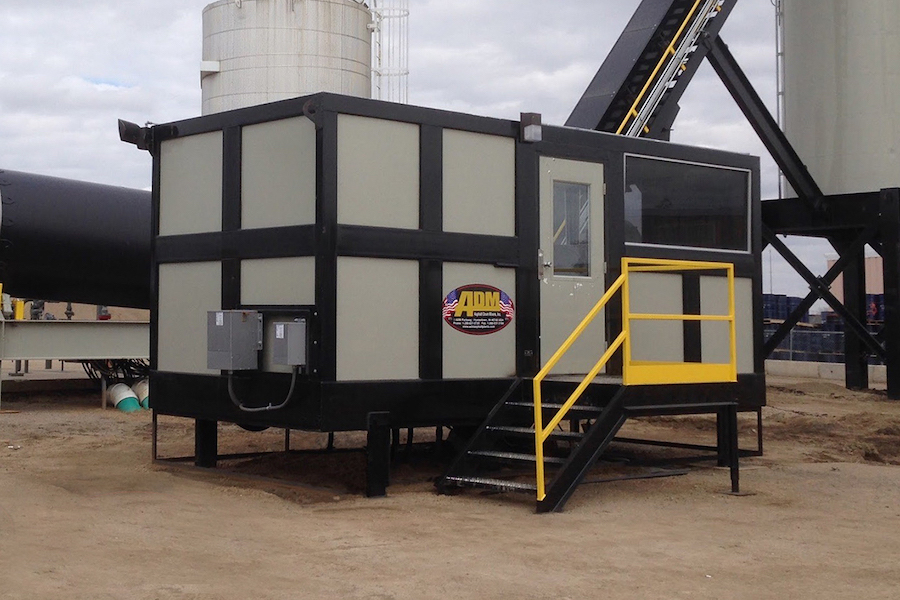 Fixed or Moveable?
Another important aspect of an HMA plant is whether it is fixed in place or can be readily transported. Or at least dismantled and moved to another location.
Fixed
A fixed HMA plant is built on location and although it may someday be dismantled, it likely won't be moved to another location. This type of HMA plant only makes sense for producers who plan to remain in one location for many years.
Portable
Portable HMA plants are built to move from location to location. They are more expensive than fixed HMA plants. So, it only makes sense to buy a portable HMA plant when a producer needs to move the plant at least every few years. A great portable option is a skid-mounted HMA plant. Another is a plant that can be moved using just one trailer. ADM's SPL series offers highly mobile HMA plants. The entire asphalt plant — including all components — fits on a single trailer frame for easy transport.
Wrap Up
The most prevalent type of HMA plants are drum-mix and batch. Drum-mix plants offer higher production rates because they are processing HMA continuously. Batch plants offer lower production rates, but more flexibility. It is easier to switch to a different mix using a batch type HMA plant. Ultimately, the goal of any HMA plant is to produce the highest quality material for the construction of the public spaces and roads we use each day.