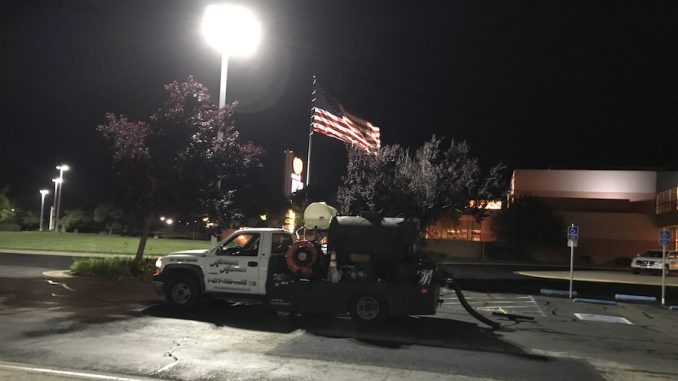 View the complete article here.
Sealcoating can be a lucrative business that you can start for a fairly low investment. One way to expand your sealcoating business and increase revenue is to offer sealcoating at night. However, there are potential obstacles to sealcoating after the sun goes down. In this article we discuss how to overcome those obstacles and offer 7 tips for sealcoating at night.
Why Sealcoat?
Sealcoating is a lower-cost alternative to replacing or repairing asphalt. A liquid product is applied to existing asphalt, like parking lots and driveways, to extend its life and reduce the need for major repairs. Sealcoating protects the asphalt surface from UV rays and can make the surface of faded asphalt appear new again. There are different ways to apply sealcoating. Check out E&C's article How to Start Your Own Sealcoating Business for more information.
Why Offer Sealcoating at Night?
There are three key reasons to offer sealcoating at night: customer convenience, business expansion, and (potentially) higher rates.
Customer Convenience
For many businesses it's simply more convenient to have the sealcoating done at night when their parking lots are empty. Restaurants, government buildings, and many office buildings are empty or nearly empty at night.
Business Expansion
Offering nighttime sealcoating can be a way of expanding your sealcoating business.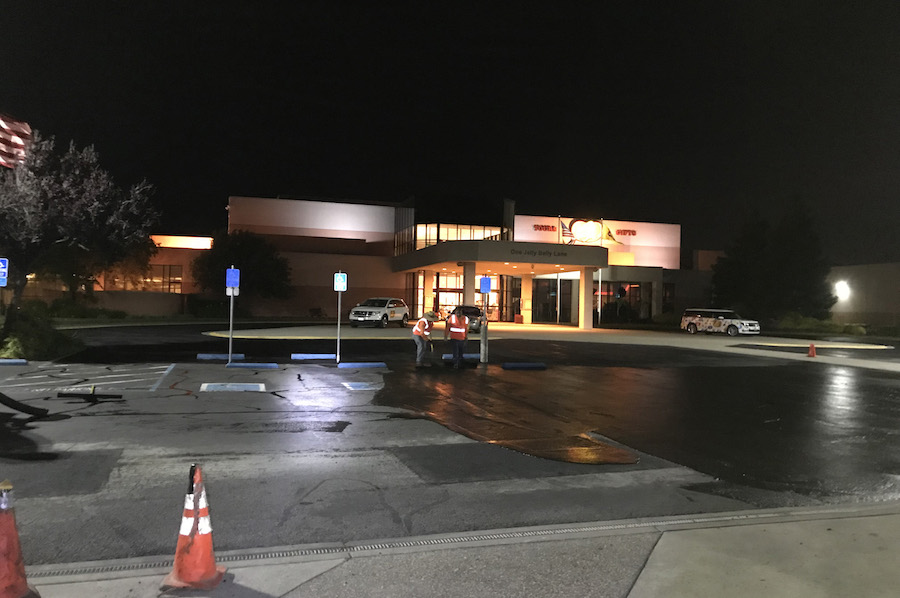 Commercial Clients
A homeowner typically prefers to have sealcoating work done during the day. Even if they work from home, it's not too difficult to move a couple of cars out of the driveway. But it's often the opposite scenario for commercial businesses, such as office buildings and public schools. For those types of commercial clients, people and vehicles do not have to be actively cleared from the area at night.
24/7 Service
You can expand your sealcoating business by using multiple crews to work around the clock. Now you can accommodate many different businesses with varying hours.
(Potentially) Higher Rates
Providing customers with the convenience of sealcoating at night may allow you to offer a premium on this service. Pricing is always set by what the market will bear, but some clients may be willing to pay a higher rate to avoid the hassle of clearing and cordoning off a parking lot or closing a road during normal business hours.
Challenges of Sealcoating at Night
Depending on where you do business and the time of year, these are the challenges of sealcoating at night:
Temperature
The ideal temperature for sealcoating is 55 degrees and rising with no rain forecasted for at least 24 hours. The temperature should not drop below 50 degrees to ensure the sealcoating dries properly. Depending on where you do business, it may be too hot during the day – above 95 degrees – for the sealcoat to properly adhere to the pavement. Excessive heat will melt the sealcoat. That's where sealcoating at night can actually be an advantage.
Humidity
Humidity affects drying time. The ideal humidity for sealcoating is 60% or less. In humid climates, like in the Southern United States, humidity is typically lower at night.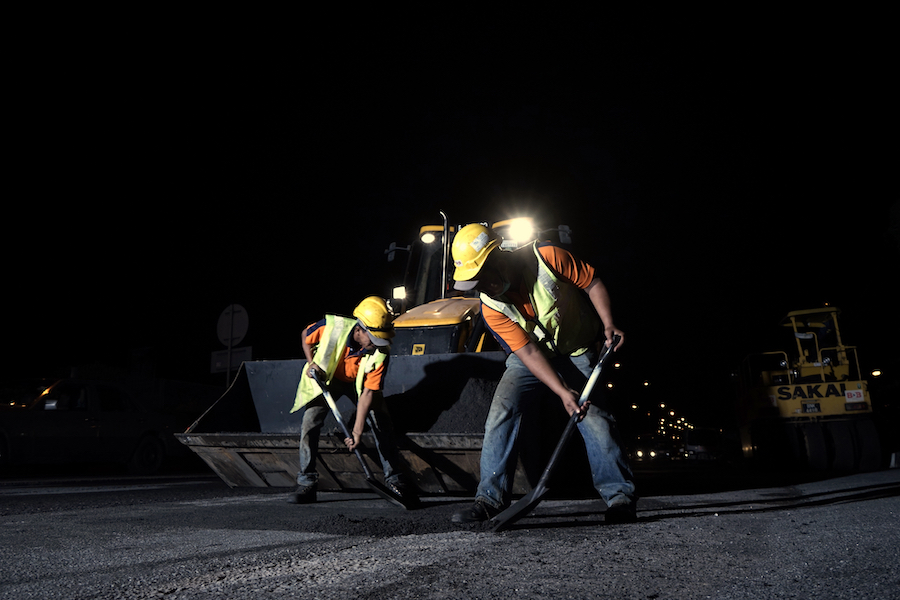 Lighting
You can't just start spraying the asphalt with sealcoat. You need to be able to see well enough to remove oil stains, sweep up debris, and fill cracks. The edges of the area require some detail work – usually using brushes or rollers. Daylight is the best light, but there are several ways to adequately illuminate the work area at night, including:
Renting tower lighting.
Connecting a power inverter to a truck battery to use halogen lights.
Mounting halogen lights on the back of the sealcoating rig and running them off its engine.
Commercial parking lots may have enough lighting available. Be sure that the lights are left on and that the timer, if used, is disabled. It's a good idea to have a night manager or businessowner meet you at the job site – or be readily available to handle any lighting issues immediately. It's an even better idea to also have backup lighting available.
Additives
The main reason to use additives in your nighttime sealcoat mixture is to speed up the drying time. Some trusted brands include:
Asphalt Kingdom's FSA Fast Sealing Additive. They advertise that this product will reduce drying time by at least 50% and is compatible with all sealing brands.
GemSeal's Rapid Set additive can reduce drying time and durability.
SealMaster has an interesting product called FASS-DRI™ based on "Advanced NANO-CURE Technology" that claims incredibly fast drying time – in as little as 30 minutes. They do note that there are many variables that can increase the drying time. We recommend contacting the company and doing some of your own testing before including it in your nighttime sealcoating process.
7 Tips for Sealcoating at Night:
Follow these 7 tips to increase your success at sealcoating at night:
#1: Be Organized. Make sure you have everything you need to finish the job. It's easy to pop out to a store during the day – but you may not find any stores open after midnight.
#2: Proven Process. Don't start sealcoating at night until you have a proven process down pat during daylight hours.
#3: High Quality Additives. Don't cheap out on additives used for quick drying of the sealcoat. You want to make sure they are effective before you use them for nighttime work.
#4: Backup Plan. Always have a backup plan for lighting, sealcoating equipment breakdowns, staffing issues (like someone on your nighttime crew getting sick), and materials.
#5: Daylight Walkthrough
. Always walk the site during the day. Take video and / or pictures and map out the job for the nighttime crew. Even with excellent lighting, the asphalt always looks different in artificial light compared to daylight.
#6: Keep It Clean. Watch out for things that can go bump in the night – like rocks and other debris. That's where adequate lighting really shines.
#7: Check the Weather. In most places, the weather can change on a dime. Double check the weather forecast right before the job. When in doubt – reschedule.
Conclusion
Sealcoating at night has its challenges – but can offer substantial rewards by expanding your client base. To meet the challenges of sealcoating at night you may need to invest in additional equipment such as lighting. But this will likely be offset by increased business and potentially higher rates for after-hours work. Get organized and develop a solid process for sealcoating at night. Your customers and bank account will thank you.