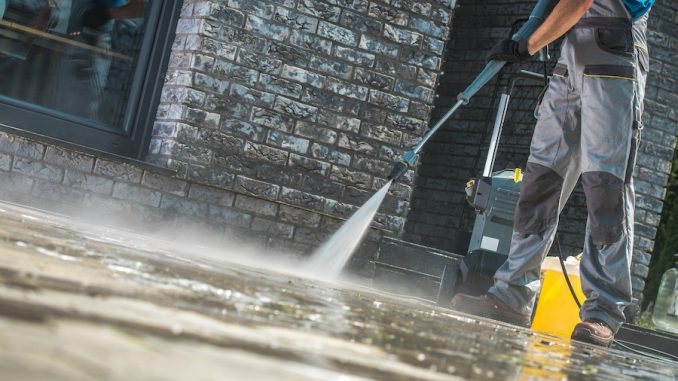 View the complete article here.
Have you been thinking about starting your own business? A pressure washing business is a great option because it is relatively low cost to start and has high potential earnings.
Plus, it's a service that is always in demand—who doesn't love a freshly cleaned house or driveway?
If you're ready to take the plunge, here's everything you need to know about how to start a pressure washing business.
Is Starting a Pressure Washing Business Profitable?
If you're thinking about starting your own pressure washing business, you're not alone. With the popularity of home makeover TV shows, more and more people are becoming interested in making their homes look their best.
A pressure washing business can be a great way to tap into this trend and make some extra money. But is it really profitable?
There are several advantages to starting a pressure washing business. First of all, it's relatively easy to get started. You don't need much in the way of equipment or training. All you really need is a pressure washer, some cleaning solution, and a few rags. You can also start small and build your business up over time.
Another advantage of starting a pressure washing business is that it can be quite profitable. Pressure washing businesses typically charge by the square foot, so the larger the job, the more money you'll make. In addition, many pressure washing businesses offer additional services such as gutter cleaning, window cleaning, etc. that can add even more to your bottom line.
Finally, starting a pressure washing business is a great way to be your own boss and set your own hours. If you're looking for flexibility and freedom in your work life, this could be the perfect business for you.
How to Run a Pressure Washing Business: Step-by-Step
Starting a pressure washing business can be a great way to earn a steady income while working outdoors. However, it's important to do your research and plan carefully before starting such a business. Here are a few key steps to follow.
1. Learn How to Pressure Wash Like a Pro
One of the most important things you can do before starting your pressure washing business is to gain some experience.
If you have never pressure washed before, start by practicing on your own home. This will give you a chance to learn about the equipment and the different techniques that are involved.
One way to gain experience is to shadow an experienced pressure washer. This will give you a chance to see firsthand how the job is done and learn about the equipment involved. You could also volunteer your time, perhaps by volunteering to pressure wash community spaces or local businesses for free.
This will not only give you a chance to learn the ropes, but it will also help you build up a list of references and potential customers.
In addition, be sure to research the best pressure washing equipment and techniques. There are many different types of pressure washers on the market, and each has its own strengths and weaknesses. By taking the time to learn about the different options, you can ensure that you have the right tools for the job.
Once you've learned the basics (we'll detail these for you later in the post), decide which services you will offer. Pressure washing businesses can offer a variety of services such as residential pressure washing, commercial pressure washing, window cleaning, deck cleaning, etc.
It's important to decide on the services you will offer before starting your business so that you can purchase the appropriate equipment and market to the right customers.
2. Make a Business Plan
Any business, large or small, needs a clear and concise business plan. Without a plan, it can be difficult to make informed decisions about how to allocate resources and set goals. When starting a pressure washing business, there are a few key points that should be included in the business plan.
Your business plan should include your business goals, a description of your target market, and a marketing plan. It should also outline your start-up costs, operating expenses, and expected revenue. Furthermore, your business plan should identify any potential risks and strategies for mitigating those risks.
Once these key points are addressed, you can begin to flesh out the details of your business plan.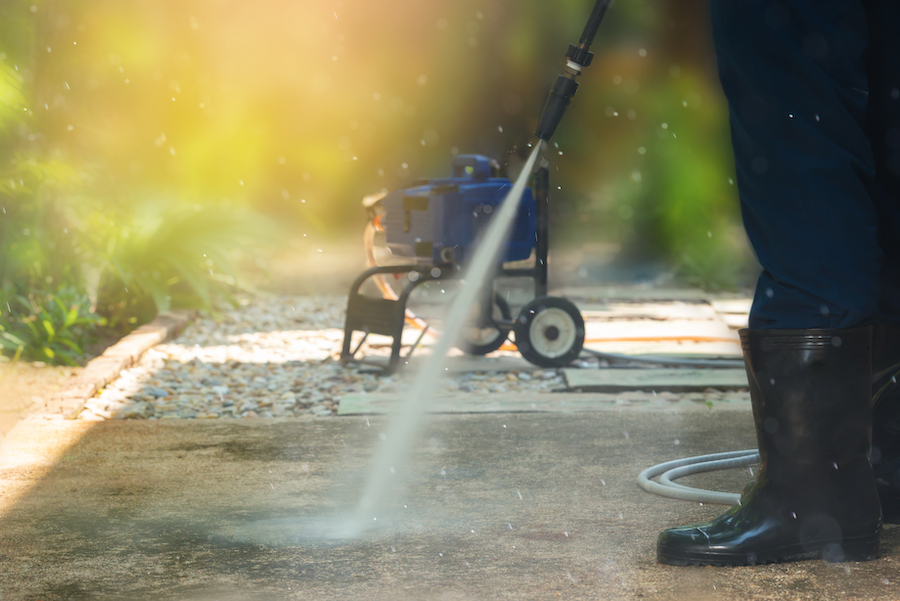 3. Choose a Business Name
This may seem like a small detail, but it's actually one of the most important aspects of starting any business. The name you choose will be how potential customers find you, so it's important to choose something that is easily remembered and reflects the services you offer.
A good business name should be unique and be memorable. brainstorm a list of potential names, then narrow it down to your top three or four choices. Once you've chosen a name, you can get started on developing your brand identity and marketing materials.
4. Consider What Type of Business You Want to Form and Register the Business
When you start a pressure washing business, one of the first things you need to do is decide what type of business entity you want to create.
A limited liability company (LLC) is often a good option for many people because it helps to keep personal assets separate from the business and transfers liability to the business itself.
After you have decided on the business structure, you will need to register the business with the appropriate state agencies.
5. Gather Your Funds
You can start with as little as $10,000, but you'll need money to buy equipment, a truck, and other supplies. To get started, reach out to family and friends for loans or investment money. Once you have the necessary funds, you can begin purchasing equipment and setting up your business.
6. Consider Setting up a Retail Location
If you're thinking about starting a pressure washing business, one important consideration is whether to set up a retail location. A retail location can provide a central base of operations for your business and help you to build brand awareness. It can also be a great way to attract new customers and generate word-of-mouth marketing.
However, setting up a retail location can be expensive, so it's important to do your research before making any decisions. When you're first starting out, it may be more cost effective just to run your business out of your own home.
7. Buy the Right Pressure Washer
If you're starting a pressure washing business or are looking to upgrade your current equipment, it's important to know what factors to consider before making a purchase.
First, consider the type of surface you'll be cleaning. The first thing you need to determine is what types of surfaces you'll be cleaning with your pressure washer. Different surfaces require different pressure levels and nozzle tips.
For example, soft surfaces like wood or vinyl can be damaged by high-pressure washers, so you'll need a machine that has adjustable pressure settings. On the other hand, tougher surfaces like concrete or brick will require a higher pressure setting in order to get them truly clean.
Another factor to consider is the environment that you'll be using your pressure washer in. If you'll be using it primarily outdoors, then you'll want to make sure that it has features like wheels and a handle that make it easy to move around. However, if you'll be using it indoors or in tight spaces, then portability might not be as much of a concern.
Of course, one of the most important factors to consider when buying any piece of equipment for your business is your budget. Pressure washers can range in price from a few hundred dollars to several thousand, so it's important to set a budget before beginning your search. Once you know how much you're willing to spend, you can narrow down your options and choose the best machine for your needs.
The best pressure washer will vary, but some great commercial models to consider include:
Simpson PS4240H
Westinghouse WPX3200 Gas Pressure Washer
Pressure Pro Eagle Series
Easy-Kleen Oil Fired Burner w/ Kohler Engine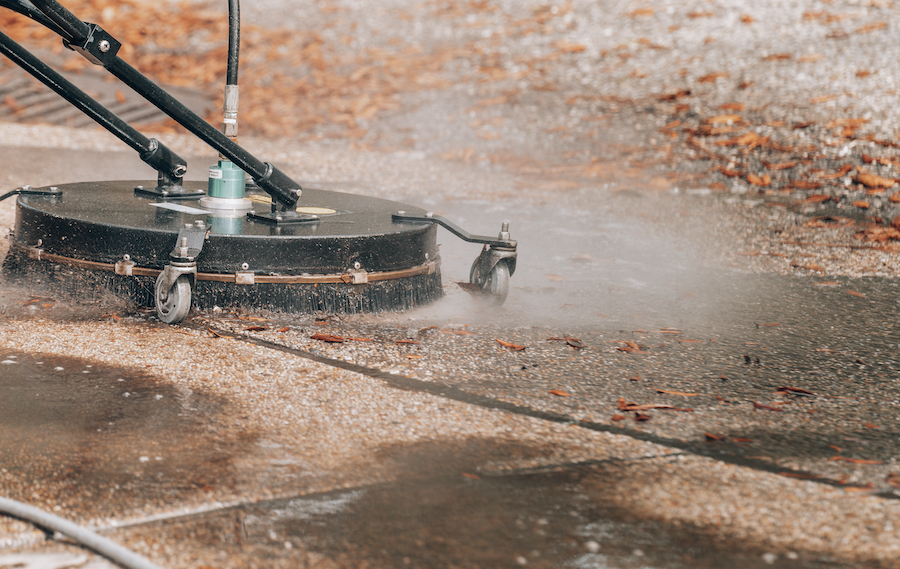 8. Don't Forget Other Pressure Washing Equipment
You'll need some other gear, too.
A surface cleaner is a machine that attaches to your pressure washer and helps you clean large areas quickly and efficiently. If you're going to be doing any kind of commercial work, a surface cleaner is an absolute necessity.
Pressure washing can be a dangerous job, so it's important to have the right safety equipment on hand. This includes things like gloves, safety glasses, and earplugs. You should also have a first aid kit on hand in case of accidents.
9. Figure Out Which Chemicals to Use
You will also need chemicals. There are countless options out there, but three of the most common that you'll want to have on hand are detergent, bleach, and a more acidic cleaner.
Detergent is used to break down tough stains like dirt, oil, and grime. It is also effective at removing mildew and mold. You will need to experiment with different detergents to find one that works best for your specific needs.
Bleach is a strong chemical that should be used with caution. It is usually diluted before being used on surfaces. Bleach is effective at removing tough stains, disinfecting surfaces, and killing mold and mildew.
Acidic cleaners are effective at removing rust stains. They should be used with caution as they can damage some types of surfaces if not diluted properly. If you plan on using an acidic cleaner, be sure to test it on a small area first to make sure there is no adverse reaction.
10. Find Out What Kinds of Permits, Insurance, and Licenses are Needed
Pressure washing businesses are regulated by both state and local laws, so it's important to be familiar with the requirements in your area.
For example, some states require pressure washing businesses to have a general business license, while others may require specific licenses for each type of service offered. In addition, most states require pressure washing businesses to carry liability insurance in case of property damage or injuries.
Finally, many localities have regulations regarding the use of pressure washers, so it's important to check with your local authorities before starting your business.
11. Open a Business Bank Account and Get Your Books in Order
Any business owner will tell you that one of the most important things you can do for your business is to keep good financial records. This means opening a business bank account and keeping track of your income and expenses.
When it comes to pressure washing, this is especially important because you will be dealing with customers' homes and businesses. You need to be able to show them that you are a professional operation and that their property is in good hands.
This starts with having your finances in order. So take the time to open a business bank account and get your books in order.
12. Set Your Rates
Setting rates can be tricky, as you don't want to charge too much and lose customers, but you also don't want to charge too little and not make a profit.
There are a few things to consider when pricing your services, such as the cost of materials, the time it will take to complete the job, and your overhead costs. You'll also want to research the going rate for pressure washing services in your area.
Once you have all of this information, you can start to set your rates.
It's important to remember that you don't have to charge the same price as everyone else. In fact, you may be able to charge more if you offer a higher quality service. The key is to find a balance that allows you to make a profit while still providing value for your customers.
You can always increase your rates as your business grows and you become more experienced. Keep in mind that pressure washing is a competitive business, so it's important to keep your rates reasonable in order to stay ahead of the competition.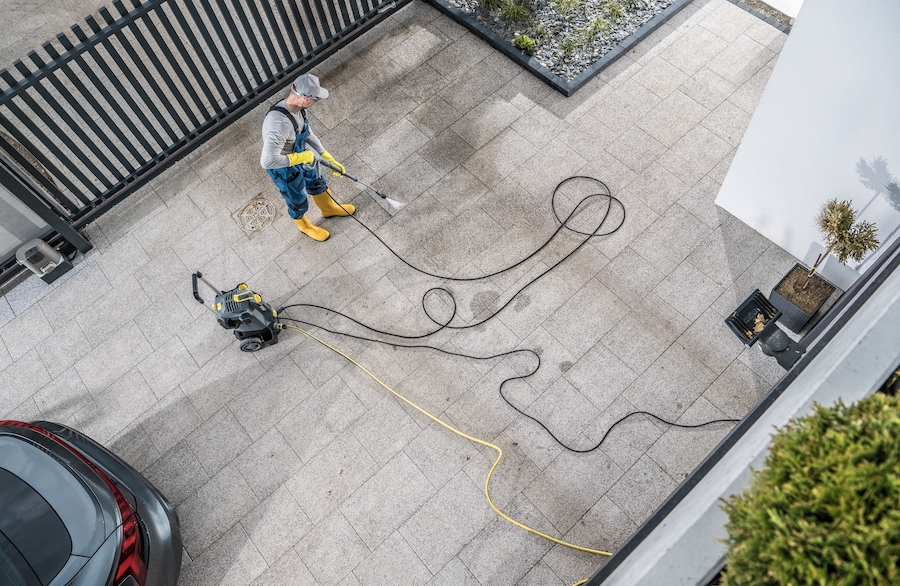 13. Come up With a Marketing Plan
Marketing is one of the most important aspects of starting a pressure washing business. A well-executed marketing plan can help you to reach your target audience, generate leads, and build buzz around your brand.
There are a number of ways to market a pressure washing business, including creating a website, using social media, and traditional offline methods such as flyers and billboards. The key is to find the right mix of marketing channels for your business.
Experiment with different tactics and track your results so that you can continue to refine your marketing strategy over time.
14. Consider Joining Voluntary Pressure Washing Associations
Joining an association can offer many benefits, including access to resources, networking opportunities, and educational resources.
The three main associations are the United Association of Mobile Contract Cleaners (UAMCC), the Pressuring Washing Resource Association (PWRA), and the Power Washers of North America (PWNA).
Each association has its own strengths and focus, so it's worth doing some research to see which one would be the best fit for you and your business. For example, the UAMCC offers members discounts on equipment and supplies, while the PWRA provides training and certifications for pressure washers.
15. Hire Employees
One of the biggest challenges is finding reliable employees.
While you can certainly try to do all the work yourself, it's generally not recommended. Not only will it be more difficult to keep up with demand, but you'll also likely end up overworking yourself and burning out quickly.
Instead, it's better to build a team of pressure washing experts who can help you handle the workload. In addition to giving you a much-needed break, your employees will also bring their own skills and experience to the table, which can help to improve the quality of your services.
That said, pressure washing is a physically demanding job, and it requires a good deal of training and experience to do it properly. As a result, it can be difficult to find employees who are both qualified and willing to work hard – but if you can find a few reliable individuals to work with, they'll be worth their weight in gold!
16. Scale Up – and Grow Your Business
If you want to succeed in this competitive industry, you'll need to do more than just purchase a pressure washer and hang out a shingle.
As you spend more time in the pressure washing industry and grow your business, you can scale up, adding new equipment and potentially more employees to the mix. This is a great way to create a recession-proof business that grows with you over time.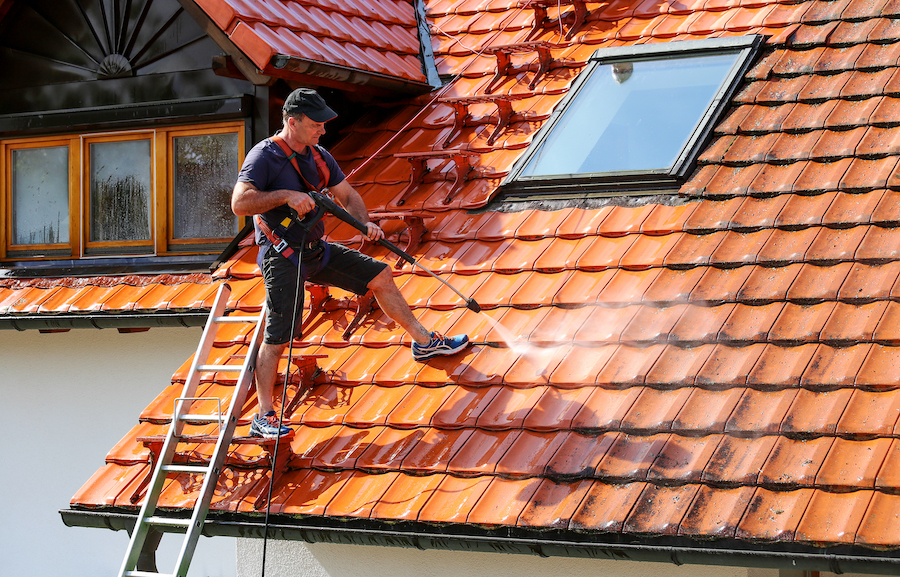 How to Pressure Wash a House: The Quick Guide
Once you've chosen the right pressure washer for the specific job, set it up. Start by attaching the hose to the water outlet on your house. Then, connect the high-pressure hose from your pressure washer to the water inlet on the machine. Be sure to follow all manufacturer's instructions when connecting hoses and electrical cords.
Before you start pressure washing, you'll need to prepare your surfaces by removing any loose debris or vegetation. This will help ensure that you don't damage your siding or other surfaces while cleaning them. Once everything is clear, sweep any remaining dirt and debris from your surfaces so they are ready for cleaning.
Now comes the fun part! Begin by setting your pressure washer to the appropriate level for your surface and begin cleaning from the bottom up using overlapping strokes. Be sure to keep the tip of your nozzle about 12 inches from the surface you're cleaning to avoid damaging it. When you're finished, move on to the next section and repeat until the entire area is cleaned.
Once you've finished pressure washing, it's important to rinse off all surfaces with clean water—this will help remove any soap residue and prevent streaking. Use a garden hose or low-pressure setting on your pressure washer for this step.
That's all there is to it! Think you have what it takes to run your own pressure washing business?
Final Thoughts
Whether you're looking for a part-time gig or a full-time career, starting a pressure washing business is a great option!
With relatively low start-up costs and high potential earnings, this type of business is one that anyone can do with some hard work and dedication. Plus, there's always demand for pressure washing services!
Just follow these tips and you'll be well on your way to running your very own successful pressure washing business.
View the complete article here.
How can I start a profitable pressure washing business?
To start a profitable pressure washing business, you would need to understand the market, have the right equipment, proper training and comply with local regulations. Additionally, creating a sound business plan and implementing effective marketing strategies can contribute to profitability.
What are key factors in running a successful pressure washing business?
Key factors for success in a pressure washing business include delivering quality services, pricing competitively, and maintaining excellent customer service. Also, regularly maintaining your equipment and staying up-to-date with industry advancements can help to set you apart from competitors.